A new baby is like the beginning of all things --wonder, hope, a dream of possibilities.
~ Eda J. Le Shan

Music is well said to be the speech of angels; in fact, nothing among the utterances allowed to man is felt to be so divine. It brings us near to the infinite.
~ Thomas Carlyle

A baby is born with a need to be loved and never outgrows it.
~ Frank A. Clark


A good beginning makes a good end.
~ English Proverb

There are perhaps no days of our childhood we lived so fully as those we spent with a favorite book.
~ Marcel Proust

There is always one moment in childhood when the door opens and lets the future in.
~ Deepak Chopra

Mozart is sweet sunshine.
~ Antonin Dvorak




THE BRAND NEW Candlelight Guitarist album!
Available NOW as as CD or Download at Amazon.com. Both CD Baby and Amazon have audio samples of every track you can hear. Be one of the first to own it!

"children will cherish it...certainly apropos for all ages...

music to bring back memories, music to relax, music to love...

sit back, hold your little loved one - or big loved one - and dream a little dream with Brad Powell 'and friends'. These may be lullabies, but they sound terrific any hour of the day."


- Grady Harp - Amazon.com Hall of Fame Reviewer - Top 50 Reviewer Soothing lullabies performed by The Candlelight Guitarist, including 14 beloved favorites and two delightful Candlelight Guitarist originals (over 50 minutes of relaxing music). Perfect bedtime music for children---adults, too! All-instrumental, yet easy to sing along as you lull your precious one to sleep.


"The Candleight Guitarist is your tour guide to a land of easy-going, warm, and inviting instrumentals."


- Bill Binkelman - Music Reviewer for Zone Music Reporter and New Age Retailer
It's a welcome musical gift for...

new parents
baby showers (for gifts, and it's great relaxing background music)
birthdays for little ones.
grandparents...keep on hand for the grandkids (you'll love it too!)
great soft music for storytime (it's all-instrumental)
Childcare providers
Kindergarten teachers

"Like a soft, warm comforter of classical, folk, world, and jazz styles ... All-instrumental and all relaxing."


- CD Baby

calming
relaxing music for lunch, snacktime, and naptime.
acoustic classical guitar (solo and with other instruments)
wide age appeal...adults will love the gentle classical guitar too!





"music to filter into my dreams. My new favorite to listen to is classical guitar music by Bradley Powell."


- Vicki Blizzard (Editor, PaperWorks and Crazy for Cross-Stitch! magazines) in CREATIVITY e-Letter.




offers a blend of beloved folk songs from around the world and classical adagios, including music by:

Mozart
Pachelbel
Brahms
Debussy
Handel
Bach (from the notebook of Anna Magdelena Bach)
Foster
and others




"Guitarist Bradley Powell, 'The Candlelight Guitarist' infuses each of his original compositions with feelings of warmth and gentle assurance that all is well in the world."


- Cynthia Sue Larson - RealityShifters.com














Featured guest musicians...
Pepper Keyz, piano
Jazmyn Byrd, flute and clarinet
Harmon Horn, flugelhorn
Taiko Tubini, tuba and concert harp
Fritz Fiddlestyx, violin
Thom Tomkatz, percussion
Lola Longnex, string bass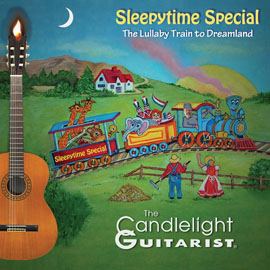 ALBUM SELECTIONS and links for INDIVIDUAL TRACKS:
Are you looking for individual instrumental lullabies?
For your convenience, here are links to these INDIVIDUAL TRACKS on Amazon.com,
where you can listen to an audio sample and download them for just 99-cents each!
The Spotify links take you to their Candlelight Guitarist ARTIST Page, and to iTunes to the album...They all offer the individual songs!
1. All Aboard The Sleepytime Special by Brad Powell
2. Brahms' Lullaby (Cradle Song) by Johannes Brahms
3. Rock-a-Bye Baby
The melody is a variant of the English satirical ballad Lilliburlero. The words first appeared in print as "Hush-a-by baby" in Mother Goose's Melody (London, c. 1765). Then as "Rock-a-bye" in Benjamin Tabart's "Songs for the Nursery" (1805). In this track, Brad is playing both parts of a guitar duet.
4. Twinkle, Twinkle, Little Star (Rustic Dance)
This unique arrangement by Brad Powell is what is known as a Quodlibet \kwäd-la-bet\ "a whimsical combination of familiar melodies or texts." It combines the familiar "Twinkle, Twinkle, Little Star" with the popular 1899 parlor piano piece "Rustic Dance" by C. R. Howell. Brad thought of the combination, because his mother, Dorothy Powell, learned Rustic Dance as a girl, and can still play it now at 90 years old! No, that's not Dorothy playing it here--but she did paint the album cover art!
5. All Through The Night (Ar Hyd y Nos, Welch Traditional)
6. Hush Little Tuba (Instrumental Fantasy)
This is a symphonic fantasy by Brad Powell, featuring the main theme of "Hush Little Baby" with interludes of:


Canon in D - by Johann Pachelbel
Simple Gifts - a Shaker Tune (used by Aaron Copeland in Appalachian Spring)
The Magic Flute (Tamino's Aria) - by Mozart
Prince of Denmark's March - by Jeremiah Clark
Minuet in G - from the Notebook of Anna Magdelena Bach (now attributed to Christian Petzold)
Clarinet Concerto in A - by Mozart
Air from Water Music - by Handel

Watch "Hush Little Tuba" - the new Candlelight Guitarist YouTube video!
(click here)

7. All The Pretty Little Horses (African Traditional)
8. Duérmete, Mi Niño (Spanish Traditional)
9. Raisins and Almonds
by Abraham Goldfaden (Yiddish, late 19th Century)
10. Love Me Tender (Aura Lea)
Aura Lea is a Civil War era ballad, written by written by W. W. Fosdick (words) and George R.Poulton (music).


11. Ann and Andy's Ragtime Lullaby by Brad Powell
12. Too-Ra-Loo-Ra-Loo-Ral (That's an Irish Lullaby)
by J.R. Shannon (late 19th Century)
13. Clair de Lune by Claude Debussy
14. Oh, Sleepy Boy (Danny Boy) (Irish Traditional)
15. Frère Jacques (Are You Sleeping?) (French Traditional)
16. Beautiful Dreamer by Stephen Foster
All music, special lyrics, and arrangements by Brad Powell © Geofonica, Inc.
"Bradley Powell's flawless playing allows you to completely relax into sleep or relax into an evening of candlelight and romance. I've fallen into a peaceful sleep while listening to this music and have also spent relaxing afternoons reading while The Candlelight Guitarist wove an intricate tapestry of sounds to nurture my heart."

- Rebecca Johnson "The Rebecca Review, looking for beauty in the world" (Washington State).





ABOUT the Cover Art: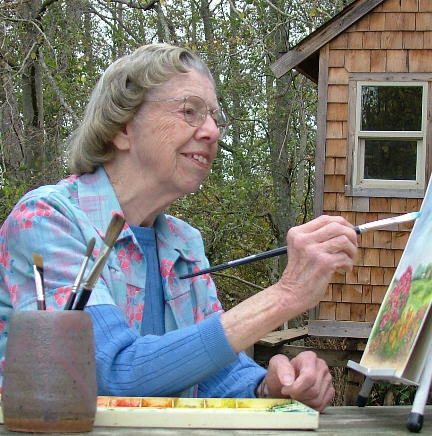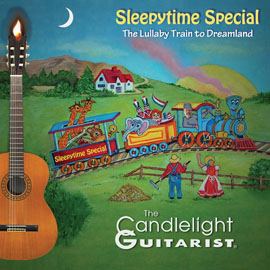 ...features cover art by Brad's mother, Dorothy Powell, who at 93 years young, is an active painter in her community of Anacortes, Washington. She has won "Best of Show" and many other honors in county fair and local art shows, and sold many paintings and notecards featuring her artwork. She's an active member and past-president of Artists Northwest-an association of artists in Northwest Washington. Artists Northwest recently bestowed on Dorothy the honor of "lifetime member."